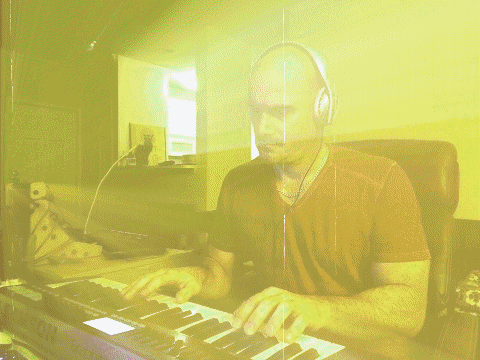 Well some of you may have heard that my old (purchased in 2012 when they first came out) Korg Microkey 37 died.  It was odd.  I can't explain why, but I installed the latest Korg USB/MIDI driver for Windows 10 into my computer and the power light on the Microkey went out for the first and only time since 2012.  I tried putting it into multiple computers.  No power.  I spent an entire weekend troubleshooting it hoping I could bring it back. I know it's crazy to say, but I think Korg's new driver fried it.  This is very sad.  This was not good timing at all.  At this point I will not be putting ANY Korg hardware into my computer until they have a proper signed certified driver by Windows.
I went out to Guitar Center on Sunday and after going around and around trying to get something portable/small to use for simple keyboard controlling of Ableton. I found this BIG Samson Graphite 49 keyboard on sale USED.  The nice part is, because it was a used keyboard, I got a really good deal on it.  Cheaper than a brand new Microkey37.  It has more keys(49), they are full sized, and it has all these programmable buttons, pads, and knobs (that I really haven't bothered with at all).  I brought it home, plugged it into the USB, and BOOM ready to play!  This was IDEAL !!!!  No driver, no problem (hence the song title).
I made a song.  Took all day.  Used the Graphite 49 and Ableton for every track, except for 3 small solos with the MicroKrog.  The entire piece was done in 8 tracks.  I created this with a "clip/session" forethought, so I could implement the Novation Launchpad.  As it turns out, I was so handy with making drum patterns with the new Graphite keyboard, I didn't even bother with the Launchpad.  So I created this using my new learned method of production in Ableton:  Make clips then arrange.  The best part is, when it's all laid out from the clips, then you can make space for solos and thats where the fun comes in.  You can hear at the end, I kind of just go banging about on the piano part.  It was fun.
Shit I used:
Hardware: 
Samson Graphite 49 controller
MicroKrog
Software:
Ableton Live 9 Studio
Addictive Keys Piano VST
Atmos Piano VST
Cassette 909 Drums VST
BPM:
85