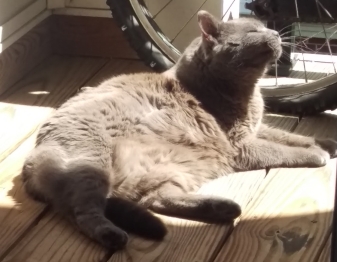 Today, Sunday, February 4, 2018 at 11:30am, Gladys Myrna Graybill, the most beautiful animal in my world, passed away with the best grace and dignity I could ever imagine.
She never ceased finding ways to make my life tolerable, easier, and better. She absorbed my tears when I cried and comforted me when I was afraid or couldn't sleep. She tanned with me on the porch on sunny days, and made numerous people in life feel comfortable and find an affection for cats as a species. She spent summers at the beach, and played in some of the worst blizzards. She has played in green grassy yards and caught countless butterflies and bugs. She even caught a mouse or two. She has made friends of friend's and family pets of all sizes and quantities.
A very clean cat, Gladys was always meticulous in her grooming and appearance. She carried this style and affinity for cleanliness all the way to her last dying breath. She never shied away from food or a good brushing (mostly fond of tuna, chicken, potato chips, and pop corn).
Known by her many nicknames as Glad Burger, Sweetums, Princess Big Butt, Princess Blue-ness, fancy pants, etc., Gladys would mostly respond to her name first, pss-wss-wss, and kissy noises. She loved the small furry cardboard mice, and the "Flattened Mouse'y" toy she stole, from Mark's cat Scotty, while in Rehoboth in 2009. Never a fan of cat nip, Gladys was attracted to chewing on grass and spitting it out. This was provided by many people as gifts (from Denise and from Evan on birthdays).
Tons and tons of pictures and videos are sitting around filling my phones and hard drives. I was fortunate enough to share 15 years of my life with Gladys, my best friend. For me, there will never be another pet like her.
I will always love her forever and will always be her daddy.
I love you my Sweetums Gladys, forever.
Update (2/5/2018):
Thought I was handling this ok.  Woke up this morning without Gladys for the first time in 15 years and saw her food, water, and poopy palace and just fell to the floor in tears.  It feels like the clock has stopped.  This is probably the hardest thing I've ever done.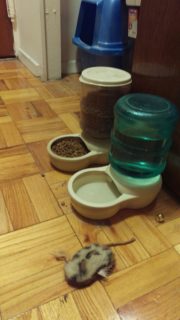 Update (2/8/2018)
Gladys's remains have arrived in the mail today.  What a great way for me to remember the best cat in the whole world.  The wooden urn, the paw print and certificate are perfect.  I paid $475.  Here is a link to the excellent service that handled Gladys's after life care.  Best money I ever spent for the best kitty ever.  I will love and miss you forever my Sweetums.